New lawsuit alleges Gurbaksh Chahal used racial slurs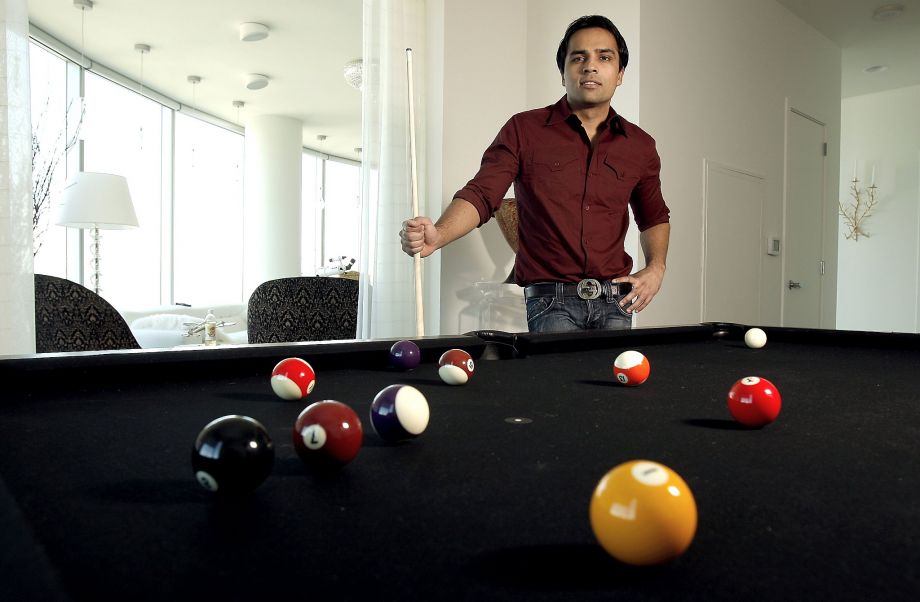 SAN FRANCISCO (Diya TV) — According to a lawsuit filed by Gravity4 chief of staff Ali Al-Ansari, Silicon Valley CEO and entrepreneur Gurbaksh Chahal allegedly routinely used racial slurs, physically attacked women and fired a male employee for attempting to prevent Chahal from striking another woman.
The lawsuit describes Chahal as "shockingly sexist." It also chronicles a series of alleged remarks he made against women's rights and equal pay for men and women.
"Al-Ansari was forced to interpose himself between the woman and Chahal and physically intervened to defend this woman to block Chahal from hitting her. Chahal nonetheless managed to hit this woman. Al-Ansari repeatedly told Chahal 'don't touch her!'"
Further, the case claims that when Al-Ansari began recording the altercation, Chahal reportedly fired him on the spot. The lawsuit also alleges that after the firing, Chahal tried to illegally access Al-Ansari's personal laptop and destroy incriminating data.
According to the Daily Beast, Chahal allegedly called his workers "n*****." Two other pending lawsuits accuse him of misleading investors, asking male coworkers which woman to hire based on their physical attraction and making death threats against an employee.
"I'm not going to stop the n-word," the CEO once said, according to the lawsuit. "Dude, do you want me to go ahead and say n*****, n*****, n*****? I don't give a f***. Martin Luther King might not like that, but he's a n*****, too."
Chahal was charged with 47 counts of felony domestic violence and assault in 2013 for an alleged Aug. 5, 2013 attack on his then-girlfriend at his San Francisco penthouse. A Superior Court judge ruled a 30-minute video, which captured the attack was inadmissible because police had seized it illegally. Chahal pleaded to accept two misdemeanor charges of battery and domestic violence in 2014 and was placed on probation for thee years. That video allegedly showed Chahal kicking the woman 117 times and trying to smother her with a pillow for about 20 seconds, threatening to kill her.
Chahal briefly stepped down as CEO of RadiumOne after the 2013 attack.
Following the 47 felony counts being dropped by a judge, he resumed his position at RadiumOne. He was later ousted by the RadiumOne board.
Shortly thereafter, he launched a new company, Gravity4.
Chahal has been in a litany of legal trouble since last year involving domestic violence charges and holding wages of former employees.
BREAKING: Gurbaksh Chahal sentenced to 12 months in county jail for violating probation on Domestic Violence Charges
Chahal was ordered in 2016 to pay almost a half million to his former chauffeur.
Gurbaksh Chahal ordered to pay ex-driver $480K in back wages
Miss India Manushi Chillar brings home the Miss World crown after 17 years
NEW DELHI (Diya TV) — Manushi Chhillar, a medicine student from Haryana, India won the crown for Miss World 2017, topping her competition to take home the coveted title.
20-year-old Chhillar, stunned by her own victory,tweeted:
Thank you, everyone, for your constant love, support at prayers! @feminamissindia @MissWorldLtd #MissWorld2017 This one's for #India pic.twitter.com/kcnLV4C22P

— Manushi Chhillar (@ManushiChhillar) November 18, 2017

It's been 17 years since the country has won the title, according to the Miss India twitter account, and the sixth time an Indian woman has been crowned the winner. The last winner was none other than Bollywood actress turned American Network TV Star, Priyanka Chopra who tweeted:
And we have a successor!Congratulations @ManushiChhillar on becoming #MissWorld2017.. cherish and learn, and most importantly enjoy it.Bravo

— PRIYANKA (@priyankachopra) November 18, 2017
Contestants from all over the world took part in the 67th Miss World beauty pageant, which was held in China.
Miss Mexico, Andrea Meza came in 2nd & Miss England, Stephanie Hill came in 3rd.

Congratulatory tweets soon followed:
And history is made! India's Manushi Chhillar finally gets the blue crown after 17 years. #MissWorld2017 @MissWorldLtd pic.twitter.com/3Eyru4iWcx

— Miss India (@feminamissindia) November 18, 2017
Congratulations @ManushiChhillar #MissWorld2017
on becoming Miss World 2017 and making the whole country proud. Haryana girls rocking it on world stage. Haryana Power,India Power. pic.twitter.com/0bVHnaqYJq

— Virender Sehwag (@virendersehwag) November 18, 2017
Manushi beat her competition from 108 women representing their countries. Former Miss World Stephanie Del Valle, from Puerto Rico crowned, Manushi as per tradition.

The 20-year-old, whose parents are both doctors, said in an interview that mothers around the world deserve the highest salary of every profession. She added, "My mother has been my biggest inspiration, so I have to say, a mother's job. It is not always about cash, but love and respect as well. A mother deserves that the most."
Before her win, she said: ""The only thing I believe is certain in life is uncertainty, and this is what is amazing about the pageant."

Ravi Bhalla becomes the first turbaned Sikh American Mayor of Hoboken New Jersey
HOBOKEN, NJ (Diya TV) — Two term Hoboken City council member Ravi Bhalla became the first turbaned Sikh to be elected mayor of the city of Hoboken, New Jersey. Tuesday night, Bhalla was all smiles, thrusting his arm in the air to celebrate his victory becoming one of the first Sikh mayors of a U.S. city. Sikh-American lawyer with a record of fighting discrimination, Bhalla says, "I'm everything that Trump hates. A brown man wearing a turban, and a proud American with the know-how to stop his assaults on our country's values."
A victory that didn't come easy. Bhalla ran against five other candidates in Hoboken, a city of 50,000. The Saturday before election, Bhalla tweeted that the fliers about terrorism were "troubling, but we won't let hate win." CBS News reported that the fliers did not name the group that paid for them, a violation of state election law.
Yesterday, a flyer w/ word "terrorist" above a pic of me was circulated in Hob. Of course this is troubling, but we won't let hate win. pic.twitter.com/Ri9xrYF4Al

— Ravinder S. Bhalla (@RaviBhalla) November 4, 2017
The community celebrated in part disbelief and part joy.
Despite the racist flyering campaign, #RaviBhalla has been elected the first Sikh mayor of Hoboken.

— 🦊Central NJ GDC 🦊 (@gdc_cnj) November 8, 2017
Simran Jeet Singh, a friend and support of Bhalla and a fellow turbaned Sikh tweeted in disbelief
is this real life?
"New Jersey elects its first Sikh mayor in history."https://t.co/iOjE6yTPpR

— Simran Jeet Singh (@SikhProf) November 8, 2017
"Given how much we've endured in this country, and frankly the fact that we have been here for more than a century now in the U.S. and have felt largely ignored and neglected as a minority community, this is for us a signal shift, where we feel like we're getting on the map. This is a major development for us," Simran Jeet Singh, a religion fellow at the Sikh Coalition, said. "And it comes in a context where, like many minority groups, we're facing xenophobia."
Gurwin Ahuja, executive director of the National Sikh Campaign, said Bhalla is one of the first Sikh people to become mayor of a U.S. city. Satyendra Huja served as mayor of the city of Charlottesville, and some small towns have had Sikh mayors.
Ahuja said that whoever made the fliers implying that "turban" meant "terrorist" interpreted the turban completely wrong. "Sikhs are instructed to be actively involved in their communities…. In fact, the reason why Sikhs wear a turban is because it represents our value of equality and to stand up against injustice wherever we see it," he said. "The turban represents our commitment to those values of equality — gender equality, racial equality and religious tolerance — and our duty to stand up for those rights. In India, back in the day, when people would see a Sikh, they knew that was someone they could go to for safety."
Bhalla, finished first among six candidates in the winner take all race, with 4,781 votes with around 34% of votes. DeFusco totaled 4,116 votes, or approximately 29 percent, according to Hudson County Clerk election results, which do no include mail-in and provisional ballots.
Abhijit Das planning to run for Massachusetts Congress
Tyngsborough, Mass. (Diya TV) — Abhijit Das, the president and CEO of Troca Hotels announced he is running for the 3dr District Congress in Massachusetts.
The Democrat candidate made the official announcement on his birthday amidst friends, family and community members at the Stonehedge Hotel and Spa in Tyngsborough. The seat ib being vacated by Niki Tsongas in November, 2018.
"As most of you know, I'm not a fan of [President] Donald Trump," Das said, adding that the unequivocal denunciation of hatred, bigotry and racism should be a prerequisite to running for president. "That notwithstanding, we should not demonize those who voted for him nor can we simply ignore their voices. It is by engaging other viewpoints that we ultimately achieve understanding, compromise and progress," he said.
Das attended the Brooks School in North Andover and earned a BA in political science from Middlebury College in Vermont.
He later earned a law degree at the University of Michigan's law school, focusing on constitutional law and the American political sector.
"It was there (at the University of Michigan) that I learned the power of democracy," he said.
Early in his career, Das served as law clerk to U.S. District of Maryland Judge Benson Legg. There, Das said he was witness to the power of the federal government, its compassion and its injustice.
Before starting Troca Hotels in 2011, Das was senior director of development for Hilton Hotels in South Asia, resurrecting 28 hotels in India from none.
 With Troca Hotels, Das' mission is to revitalize communities.
"Our state of the economy is troubling," Das noted. "Something is not working and we need to fix that. We must work diligently to turn this place to one of opportunity and innovation."
Das says his platform includes the economy, innovation, education and the mental health crisis, among other issues.
"Washington is broken. I entered the possibility of this race because I saw friends (on both sides) shouting at each other," Das said. "True dialogue is what we need. We need someone who is going to cross over that line and say, 'let's talk.'"