New lawsuit alleges Gurbaksh Chahal used racial slurs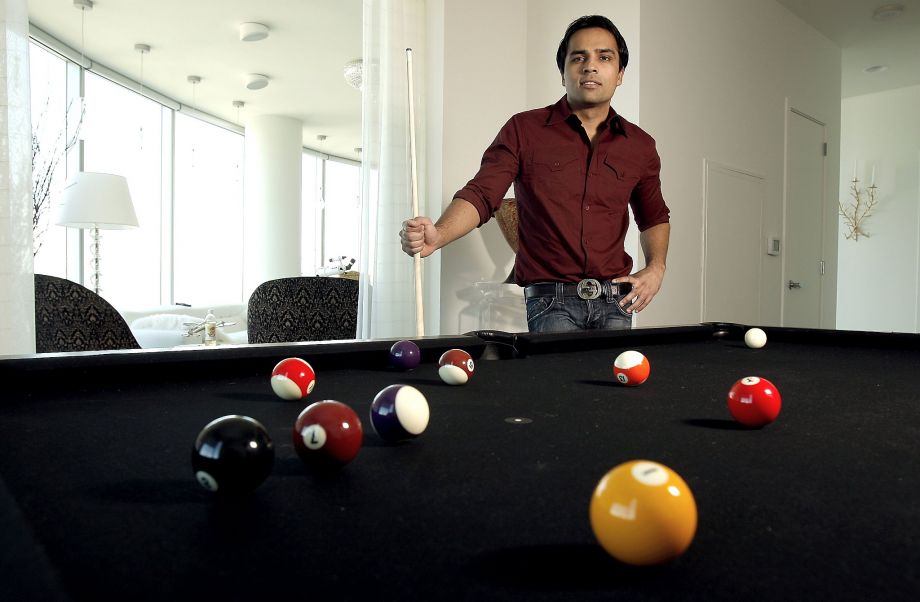 SAN FRANCISCO (Diya TV) — According to a lawsuit filed by Gravity4 chief of staff Ali Al-Ansari, Silicon Valley CEO and entrepreneur Gurbaksh Chahal allegedly routinely used racial slurs, physically attacked women and fired a male employee for attempting to prevent Chahal from striking another woman.
The lawsuit describes Chahal as "shockingly sexist." It also chronicles a series of alleged remarks he made against women's rights and equal pay for men and women.
"Al-Ansari was forced to interpose himself between the woman and Chahal and physically intervened to defend this woman to block Chahal from hitting her. Chahal nonetheless managed to hit this woman. Al-Ansari repeatedly told Chahal 'don't touch her!'"
Further, the case claims that when Al-Ansari began recording the altercation, Chahal reportedly fired him on the spot. The lawsuit also alleges that after the firing, Chahal tried to illegally access Al-Ansari's personal laptop and destroy incriminating data.
According to the Daily Beast, Chahal allegedly called his workers "n*****." Two other pending lawsuits accuse him of misleading investors, asking male coworkers which woman to hire based on their physical attraction and making death threats against an employee.
"I'm not going to stop the n-word," the CEO once said, according to the lawsuit. "Dude, do you want me to go ahead and say n*****, n*****, n*****? I don't give a f***. Martin Luther King might not like that, but he's a n*****, too."
Chahal was charged with 47 counts of felony domestic violence and assault in 2013 for an alleged Aug. 5, 2013 attack on his then-girlfriend at his San Francisco penthouse. A Superior Court judge ruled a 30-minute video, which captured the attack was inadmissible because police had seized it illegally. Chahal pleaded to accept two misdemeanor charges of battery and domestic violence in 2014 and was placed on probation for thee years. That video allegedly showed Chahal kicking the woman 117 times and trying to smother her with a pillow for about 20 seconds, threatening to kill her.
Chahal briefly stepped down as CEO of RadiumOne after the 2013 attack.
Following the 47 felony counts being dropped by a judge, he resumed his position at RadiumOne. He was later ousted by the RadiumOne board.
Shortly thereafter, he launched a new company, Gravity4.
Chahal has been in a litany of legal trouble since last year involving domestic violence charges and holding wages of former employees.
BREAKING: Gurbaksh Chahal sentenced to 12 months in county jail for violating probation on Domestic Violence Charges
Chahal was ordered in 2016 to pay almost a half million to his former chauffeur.
Gurbaksh Chahal ordered to pay ex-driver $480K in back wages
NBA champs Golden State Warriors at the forefront of celebrating American diversity
OAKLAND, Calif. (Diya TV) — The Golden State Warriors dominated this regular season game during Black History Month against the Phoenix Suns, all while showcasing Indian culture & heritage. From pre-game performances outside the Oracle Arena entrances, to on court displays of brilliant choreography and Indian dances, the Warriors celebrated their annual Bollywood Night bigger and better than ever.
The evening began with a performance by Sikh dance group know as "The Lion Kings", kids ranging from as young as 7 years to 16 years of age danced while getting the crowds going. Up next, on another entrance, Stanford's competitive dance, Basmati Raas strutted their stuff 'Gujju-style' in Warriors Blue & Yellow showing how this next generation of American Born Desi kids are not ABCDs but ABPDs…American Born Proud Desis!
Before tip-off the Warriors All Stars – Stephen Curry, Kevin Durant, Klay Thompson & Draymond Green, received their all-star jerseys. While the splash party continued in the first half, the halftime show belonged to the always incredible Bhangra Empire. They brought down the house, 'Punjabi-style' with a colorful & masterful display of choreography and Sikh culture.
This performance was followed by Bhangra by the Bay, which is just what the crowd needed. Steph score 22 and new addition Omri Casspi scored 19 for dominant 129-83 victory for Golden State.
Democrat Doug Jones beats Republican Roy Moore for Alabama Senate seat
BIRMINGHAM, Ala. — In one of the most intensely fought elections in 2017, Democrat Doug Jones, a former prosecutor has defeated the scandal-clad Republican Roy Moore. Moore who had the endorsement of President Trump, despite allegations of inappropriate sexual behaviour, was defeated on Tuesday in Alabama, a deeply conservative state that last elected a Democratic senator 25 years ago. The upset delivered a surprising victory for the Democrats shaving the Republican Senate majority down to a single seat.
Roy Moore, the Republican candidate who was abandoned by a majority of his own party leaders, lost to Democrat Doug Jones in a battle that wasn't a battle until the allegations of sexual misconduct began surfacing, including by a woman who was under-age at the time she was allegedly assaulted. Former Presidential candidate Mitt Romney tweeted:
Roy Moore in the US Senate would be a stain on the GOP and on the nation. Leigh Corfman and other victims are courageous heroes. No vote, no majority is worth losing our honor, our integrity.

— Mitt Romney (@MittRomney) December 4, 2017

Moore was running to fill a seat left vacant by Jeff Sessions who is Trump's attorney general and lost to Jones, a former US attorney who had prosecuted two members of the Ku Klux Klan for a 1963 bombing of a church in which four African Americans girls had been killed.
Just hours before the polls opened President Trump tweeted:
The people of Alabama will do the right thing. Doug Jones is Pro-Abortion, weak on Crime, Military and Illegal Immigration, Bad for Gun Owners and Veterans and against the WALL. Jones is a Pelosi/Schumer Puppet. Roy Moore will always vote with us. VOTE ROY MOORE!

— Donald J. Trump (@realDonaldTrump) December 12, 2017
But despite the presidential endorsement, Moore was defeated by Jones becoming the first Democrat Alabama has sent to the US senate since 1992. His upset victory owes much to Moore's flawed candidacy, but was pulled off by the Democratic party machine that poured money and resources sensing a chance, howsoever small at the time, of victory. Including a helping hand from Alabama-native and former NBA star Charles Barkley, who campaigned for Doug Jones. He told CNN "Roy Moore was an embarrassment. I am just so proud of my state. We've got some amazing people here and they rose up today"
President Trump congratulated Jones on his victory, over twitter:
Congratulations to Doug Jones on a hard fought victory. The write-in votes played a very big factor, but a win is a win. The people of Alabama are great, and the Republicans will have another shot at this seat in a very short period of time. It never ends!

— Donald J. Trump (@realDonaldTrump) December 13, 2017
After initially holding back his endorsement, Trump had come to fully embrace Moore, arguing that if the allegations were proven, the Republican candidate should step aside. But he needed every vote in the Senate to push through legislative agenda, which has had a patchy run thus far.
Trump broke with most members of his party, including the senior Republican senator from Alabama Richard Shelby who had announced they would not vote for Moore. Jeff Flake, a Republican senator from Arizona, public announced he had donated to Doug Jones' campaign. Roy Moore hasn't conceded to Jones and has asked for a recount stating, "It's not over. I demand a recount. We need to wait for God."
Sikh American Gurbir Singh Grewal could become NJ's first South Asian Attorney General
HACKENSACK, NJ (Diya TV) — Governor-elect Phil Murphy on Tuesday announced Bergen County Prosecutor Gurbir S. Grewal as his nominee to serve as state attorney general, the Democrat's first high-level nomination as he works to fill out an administration set to take office on Jan. 16.
The pick of Grewal, an Indian-American Sikh, could prove historic. If Grewal is confirmed by the state Senate, which seems all but certain, Murphy said he would become the first South Asian attorney general in New Jersey and the first Sikh to hold the position in any state.
"The American dream is alive and well in New Jersey," Grewal said at a news conference in Trenton where Murphy made the announcement.
Grewal, a Glen Rock resident and former federal prosecutor, has led the Bergen County Prosecutor's Office since Republican Gov. Chris Christie tapped him for the role in January 2016. He served in an acting capacity until the Senate confirmed him to a five-year term in November 2016.
Grewal, a Democrat, has earned plaudits for his office's work in combating the opioid crisis in Bergen County and promoting better relations between police and the people they serve.
The South Asian Bar Association of North America (SABA) congratulated Gurbir S. Grewal.
"The decision to appoint a visible minority as the chief law enforcement officer for New Jersey reflects the diversity of the state and of the US, and is especially important in a time where minorities and immigrants have often felt targeted by law enforcement," said SABA President Rishi Bagga. "We applaud Governor-elect Murphy in picking a distinguished and qualified member of the South Asian and Sikh American legal community for this pivotal role. We strongly support Mr. Grewal's nomination as Attorney General and look forward to working with him on issues of national importance."
Mr. Grewal has spent most of his legal career in public service, where he is currently the Bergen County prosecutor. Working for most populous county in New Jersey, Grewal serves a community of almost one million with his staff of 265.
Among other initiatives, Grewal has put in place a strategy of persuading recently arrested or hospitalized addicts to immediately talk to addiction recovery specialists. That has led to nearly three-quarters of those addicts agreeing to enter treatment at some point.
Attorney general is one of the most powerful positions in New Jersey government, serving as the state's top cop and top lawyer. The person in that role leads the 7,200-employee Department of Law and Public Safety, which includes the State Police, civil rights enforcement, consumer affairs and civil litigation.
Grewal's confirmation would be the second notable accomplishment for New Jersey Sikhs in recent months. Earlier this year, Ravi Bhalla was elected mayor of Hoboken and will become the first Sikh to hold that office in New Jersey.